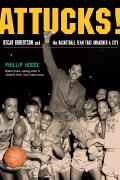 I was thrilled to receive
a review copy of
ATTUCKS! OSCAR ROBERTSON and the BASKETBALL TEAM THAT AWAKENED A CITY
by Phillip Hoose.
Children's and YA literature often introduces me to parts of history I know nothing about (i.e.
Dreamland Burning
,
My Mother The Cheerleader
,
Crossing Ebenezer Creek
and anything by Ruta Sepetys). It was Hoose's own
Claudette Colvin: Twice Toward Justice
that introduced so many of us to this brave young woman who refused to give up her seat on the bus (nine months before Rosa Parks)
I appreciate that in
Attucks,
Hoose owns his whiteness and lack of exposure (in his youth) to People of Color, specifically African Americans. He admits that he thought the name of the all black high school in Indianapolis was Christmas Attucks (which is a terrible reflection on the U.S. History being taught at his 99.9% white high school across the river in Speedway, Indianapolis).
So, as a white woman and ex middle school girls' basketball coach (my main role was to repeat the other coach's instructions in my hard-to-ignore 'playground voice') I was very eager to learn about this team that forever changed high school basketball in Indiana.
Let's start with the positives (this is how book award committees normally work and I like that format).
The book focuses on Oscar Robertson, the star player for the Attucks team and considered "the greatest basketball player ever in Indiana."
Hoose met with Robertson when researching an article for Sports Illustrated. "One scrap from that conversation inspired the book you're reading now." (p. 3)
"You know," Oscar said, "when the Ku Klux Klan started our school, they really didn't understand what they were doing."
Hoose goes on from this starting point to do an amazing job telling the story of this young man, the school, the community and the state. He puts in first hand accounts of the jaw-dropping ignorance and racism i.e. one little white boy who kept scratching an Attucks' cheerleader's arm and tasting his finger until she told him "It isn't chocolate, it's my skin, the same as yours. I'm just darker than you are." (p. 40)
He emphasizes the power of the KKK, specifically in the person of D.C. Stephenson who (accurately) stated, "I am the law in Indiana." (p.18) Hoose's recounting of the opening of Crispus Attucks High School in 1927 through the winning, culture-changing basketball teams of the mid 1950's shines a light on a little known, little written about, chapter in Civil Rights History.
BUT
, some language choices and errors jumped out at me, and if I (a 56 year old white woman)
saw them, there are probably other errors that will jump out at PoC.
Let's start with language. Here is the description of our hero, Oscar Robertson, "... a tall, lean, gangly boy with large, slightly protruding eyes...." (p. 94)
Protruding eyes are often used in caricatures or mocking portrayals of African Americans, so it's a descriptor I would leave out unless Robertson had Graves' Disease and Hoose was listing symptoms. To make this more disturbing (to me), there is a photo of Robertson on this page and the word 'protruding' is not even vaguely accurate, so why is it used?
Further in the book (p. 135) Hoose is talking about Attucks High School playing Muncie Central and the betting going on about the game. he states, "It was a game over which a great deal of money changed hands--black dollars and white dollars. Attucks games had long been heavily wagered, with racial prejudice driving many white fans to bet with their hearts rather than their heads against a black team."
I'm aware that what he is saying is that their emotions, specifically hatred and racism, had them making unwise bets. However, being guided by one's heart normally has positive connotations.
There are some big inaccuracies or miscommunication in the text as well.
Hoose introduces the story of Bernard McPeak (p. 99) an African American man, who had '"applied for membership in the Indiana Officials Association" but he was rejected by a vote of 40-7 and Hoose writes, "The organization's president, Clayton Nichols, matter-of-factly explained the reason to a reporter: "It was because of his color." (p. 100)
Put like that, it sounds as if President Nichols is incredibly racist and supportive of the Association's decision. In fact, the HEADLINE on p. 102 states: REFEREES' PREJUDICE EXPOSED BY OFFICIAL OF ASSOCIATION!
In other words, President Nichols was incredibly angry about the vote and immediately called out the racism of a majority of his groups' members (Ah, if only a current organization would call out the racism of a majority of its members, *cough* GOP *cough*).
Is this a huge error? Well, not huge, but it's an error that shouldn't have happened, given the correct information is in the PRIMARY SOURCE material in this very book.
On this same page (p. 100) Hoose states "The (Attucks) Tigers never saw a black referee." BUT, when we look at the primary source (newspaper article on p.103) it says "McPeak is certified by the Indiana High School Athletic Association (IHSAA) and has worked a number of high school games here. His latest assignment was the Attucks-Ladoga contest..."
I'm not sure why Hoose made these errors. Is it to make the racism seem worse? The bigotry is heinous and blatant already, so there's really not a need to attribute racism to a man who fought it (Nichols) or create a situation that didn't exist ("never saw a black referee").
All in all,
ATTUCKS
tells a fascinating story and I'm glad to have learned this history. It disturbs me though, that I cannot truly trust all that I read, since it seems to me that care was not taken with the facts or language in this book.